Ghost Towns
in the Western United States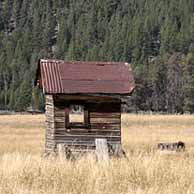 Ghost towns are different things to different people. The dictionary defines a "ghost town" as being a deserted community with few or no remaining inhabitants and some evidence of the buildings that were once located there. Ghosts may or may not be present. (I have never seen a ghost in any of these communities, but that does not prove that they are not there.) Some of the towns listed below have been restored, some stabelized, and some are just plain falling to pieces. Some are truly deserted and some are not.
The Western United States is loaded with the remnants of once prosperous communities. Some of the sites here listed have been developed as tourist attractions with museums, arcade amusements, shows, exhibits, and a variety of refreshments. Others are maintained as historic sites and still others are completely abandoned. Many of the more "ghostly" were associated with the mining and/or lumber industries of the late 19th and early 20th centuries.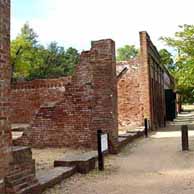 A town like Whitney, Oregon, is an excellent example of an "authentic" ghost town as defined above. Very few people know of its existance let alone visit it. One elderly sign is all that outlines its past importance. Virginia City, Nevada, is at the other end of the scale. It is well publicized all over the world and attracts millions of visitors each year. They are each in their own way interesting places to visit, although one may sometimes find it difficult to find the ghost of the past in the towns that emphasize popcorn, post cards, t-shirts, ice cream, and "genuine antiques." A town like Bodie, California, strikes a delightful balance between fame and authenticity with a minimal intrusion of commercial and preservation efforts.
For some reason few, if any, in mainstream America include any ancient Native American communities in their list of ghost towns even though many of the inhabitants of those communities had a strong belief in the existance of apparitions, spirits, wraiths, phantoms, and ghosts. It would appear that the concept of a "ghost town" does not bridge the cultural divide between the Anglo-European and Native American communities.
Abecedarius, 8/10
Antelope, OR | Bodie, CA | Calico, CA | Cima, CA | Coloma, CA | Columbia, CA | Dos Cabezas, AZ | Fairbank, AZ
Fruita, UT | Garlock, CA | Ghost Town Museum, AZ | Goldfield, NV | Jerome, AZ | Keeler, CA | Malakoff Diggins, CA
Manhattan, NV | Oatman, AZ | Randsburg, CA | Rhyolite, NV | San Diego Old Town, CA | Shasta, CA | Sumpter, OR
Tombstone, AZ | Virginia City, NV | Whitney, OR