Railroads
in the Western United States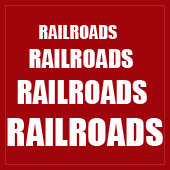 Railroads played an important part in the history of the Western United States. One of the very best railroad museums in the world is the Railroad State Historic Park located in Sacramento, California. Other museums throughout the West have bits and pieces of our railroad past in various stages of disrepair. Many communities with a proud railroad heritage have engines or cars on display. Below are links to some representative locations and some relevant biographies.
Caliente, AZ
Duncans Mills, CA
Dunsmuir, CA
Eureka, CA
Eureka Logging Museum, CA
Furnace Creek Museum, CA
Independence, CA
Jamestown, CA
Kern County Museum, CA
Kingman, AZ
Laws Railroad Museum, CA
Martinez, CA
Oroville, CA
Railroad State Historic Park, CA
Sacramento Old Town, CA
Sumpter Railroad, OR
Virginia City, NV
Yorkville, CA
Charles Crocker
Theodore Judah
Collis P. Huntington
Leland Stanford
Railroads still play a vital role in the economy of the Western United States. Today's powerful engines pull unbelievably long trains of cars. Not infrequently two to four and even six engines can be seen in the same train. Many trains transport trailers stacked two high for the long haul across the region. Trucks take over for the final delivery.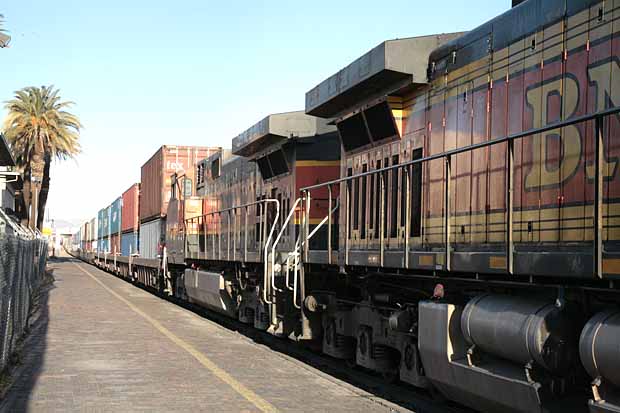 This BNSF train is 8,000 feet long and weighs 7,698 tons. It is powered by four 4400 horsepower engines - two in front and two in back. A few generations ago a mule skinner used whip and reins to control up to 40 mules pulling giant wooden wagons across the desert. Today this modern engineer uses radio to control 17,600 horses pulling his mile and a half long steel train carrying more than fifteen million pounds of freight across the same desert.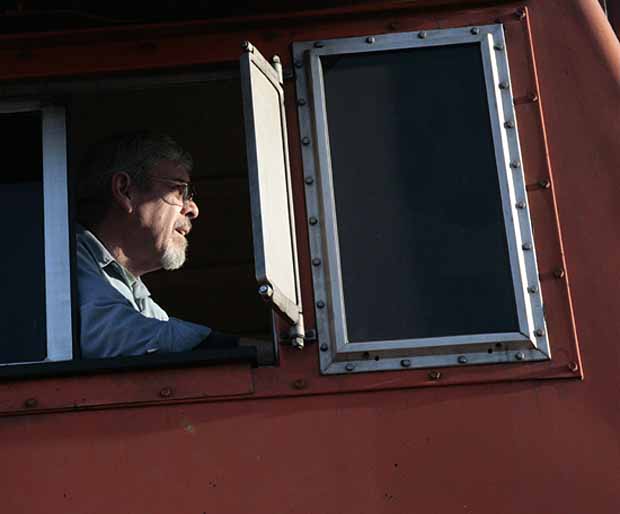 "A big iron needle stitching the country together."
Jessamyn West