A Scenic Drive Along The Northern California Coast
Marin, Sonoma & Mendocino Counties

Exploring the Northern California Coast will probably require more than one trip, particularly if you want to do the region justice. If you have the flexibility to approach it this way try to schedule your trips at different times of the year. In spring the wildflowers can be spectacular. In winter it is delightful to curl up in front of a fire place and enjoy a fierce storm. Fall usually has the best weather and is a great time for mushroom hunting and several of the restaurants in the area will have special wild mushroom culinary events. The best time not to visit the north coast is during a summer weekend or three day holiday when it can be very crowded. If you absolutely must make your visit during a busy time be absolutely certain to book your accommodations as early as possible.
There are a number of small communities located along the coast north of San Francisco and south of Soldier's Point. Highway One links them all south to north and turns inland at Soldier's Point to cross the coastal mountain range to Highway 101 at Leggett. Several other roads tie these coastal communities into Highway 101 and the interior of the state. This network of roads makes it easy to modify your itineraries and visit different parts of the coast at different times.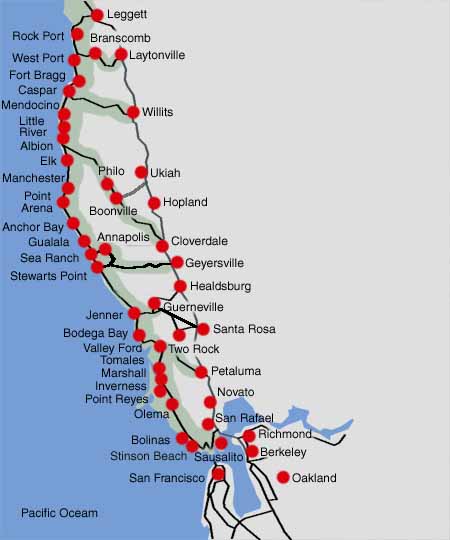 The principal towns on this route include Stinson Beach, Point Reyes Station, Bodega Bay, Gualala, Point Arena, Mendocino, and Fort Bragg. A large number of small inns together with some very good cafes, bakeries, and restaurants are sprinkled along the way in these towns and in other smaller villages such as Bolinas, Olema, Inverness, Jenner, Anchor Bay, Albion, and Little River. A few excellent art galleries, and an assortment of boutique shops can be found in virtually all of the communities. Grocery stores are in most of the towns and the quality and extent of their stock reflect the size and nature of the surrounding community. Gasoline is available in the larger towns, but it is strongly recommended that you fill up before heading for the coast, particularly if you plan to do much driving at night.
If you decide to make only one trip to the north coast and have the time you should plan for at least four days and five would be even better. In addition to the various communities listed above, there is a long list of points of interest to consider including in your itinerary. The Golden Gate Bridge, Marin Headlands, Point Bonita Lighthouse, Muir Woods, Mount Tamalpais, Stinson Beach, Audubon Ranch, Point Reyes National Seashore, Point Reyes Lighthouse, Tomales Bay State Park, Bodega Head, Bodega Dunes, Sonoma State Beach, Fort Ross State Park, Salt Point State Park, Point Arena Lighthouse, Manchester Beach, Van Damme State Park, Mendocino Headlands, Russian Gulch State Park, Jug Handle State Reserve, Caspar Headlands State Beach, Point Cabrillo Lighthouse, MacKerricher State Park, the Haul Road, Westport Union Landing State Beach, and virtually everywhere the coast itself. This itinerary will take you through parts of three counties and you will find that the character of the coast is different in each one. The southern region close to the megapolis of Greater San Francisco is heavily settled while the northern part of the coast has very long stretches where one sees very few signs of human habitation. Several of the northern drives across the coastal mountains are virtually devoid of any such indicators.
There is a lot of variety along the coast. Point Reyes National Seashore offers a wide range of excellent hiking and a few very good horseback riding trails. Surfers will, of course, want to try out the curlers at Stinson Beach, but they should also ask about less well-known surf further up the coast. Everybody should include the famous redwoods in Muir Woods. There will be other redwoods on the trip, but Muir Woods is the very best place in this itinerary to see these natural treasures. The four lighthouses are all equally worthy of a visit. For dunes lovers some of the very best are just north of Fort Bragg and a hike along the Haul Road is an excellent way to see them and some rugged coast line too. Colonies of Harbor Seals and Sea Lions exist at a number of places on the coast and one of the larger elk herds in California roams free in Point Reyes National Seashore. Deer are found everywhere along the road and drivers must be particularly careful early in the morning and late in the afternoon. The Pacific Flyway passes directly overhead the entire way and a wide variety of birds can be seen if one spends a few moments looking. Audubon Ranch near Bolinas is probably the most famous spot for bird watching but the entire area is rich in opportunities to admire our feathered friends.
Here is a four day itinerary that covers a selection of the principal points of interest from San Francisco to Mendocino. It assumes a departure from San Francisco, but it can easily be turned around so that it runs north to south instead of the reverse. A word of warning - Do not rush this trip. Highway One is not conducive to speed and the frustration of not making your time lines will ruin your trip. Don't try to cram too much into your itinerary and take the time to savor the relaxed north coast life style.

---
Four Day Itinerary, Day One: Depart San Francisco after an early breakfast at Mel's or Max's, drive across the Golden Gate Bridge on Highway 101. Just north of the bridge turn west onto Highway One. Follow the signs to Muir Woods and spend a couple of hours wandering leisurely through the redwoods. After Muir Woods drive on up the coast on Highway One to lunch in Stinson Beach. If you are not into surfing this trip continue on to the Point Reyes National Seashore area. There are several places to stay in close proximity to the park. I prefer the Point Reyes Seashore Lodge in Olema because one can literally walk out their back door, cross a small creek, climb an old-fashioned style, and find yourself in the park. Wherever you decide to stay, plan to visit the Miwok Indian Village and the Earthquake trail before dinner in Point Reyes Station. Make sure to stop in at the nearby Point Reyes National Seashore Visitor Center and pick up a map of the park.
Four Day Itinerary, Day Two: The Bovine Bakery in Point Reyes Station has coffee and delicious breakfast rolls. After an early breakfast spend the morning driving through the Point Reyes National Seashore. Be sure to visit the dramatic lighthouse; Drake's Bay, where Sir Francis Drake repaired his ship in 1579; and Pierce Point Ranch, where you will probably see one of California's larger elk herds as well as a nineteenth century dairy farm that supported San Francisco during the gold rush. After a morning exploring the park head back to Point Reyes and pick up a picnic lunch at the Cowgirl Creamery - absolutely delicious food. After getting the requisite supplies for your mid-day repast head north on Highway One to Bodega Bay and enjoy your picnic along the coast. My preferred spot is high on Bodega Head where I can watch the comings and goings of the small harbor. After lunch continue north on Highway One across the Russian River, through Jenner, and on up the coast to Fort Ross, where Russian fur hunters were headquartered in the nineteenth century. Spend an hour or two visiting the fort before continuing on to Salt Point State Park. If you still have an hour in your day you should seriously consider a short hike along one of the coastal trails. After Salt Point continue north to Gualala for dinner and overnight in any one of several small inns. My absolute favorite is Mar Vista Cottages but they only offer lodging for two or more evenings. Save them for another trip when you have more time.
Four Day Itinerary, Day Three: After coffee in Gualala drive north on Highway One to Mendocino for a late breakfast at one of several excellent restaurants. Spend the morning wandering around this nineteenth century logging town turned Bohemian art center and select an inn for that night's lodging. I prefer the Joshua Grindle. After lunch in town you have several choices for the rest of your last day on the coast. You can go for a hike from MacKerricher State Park into the sand dunes along the Haul Road, or you can do some less adventurous hiking in Russian Gulch State Park, or you can just drive north along the coast to Westport and return. Some folks will want to spend the afternoon browsing among the extensive collection of art galleries and small boutiques in town. Dinner that night in any one of a number of very good to excellent restaurants. You should also ask to see if there are any plays running at the time of your visit.
Four Day Itinerary, Day Four: After breakfast in Mendocino head south on Highway One to Highway 128. Turn south on Highway 128 and proceed through the apple orchards and wine country along the Navarro River. Several excellent fruit stands offer a selection of seasonal fruit and a large number of small wineries offer tastings. This is another excellent opportunity for a picnic lunch. I would purchase the main ingredients in Mendocino before leaving that morning and select a wine at one of the wineries. Several of them offer a spot for you to enjoy your picnic. After lunch continue on Highway 128 through Booneville to Highway 101 at Cloverdale. You will then be on one of California's main north south arteries and it should be easy to continue on home or to your next destination.
Modifications of the four day Northern California Scenic Drive are easy to make. In fact the best way to enjoy this area is to divide it into at least three and perhaps four separate trips. Each of them could be done in two days but in every case three days would make them much more enjoyable. Trip One could encompass the southernmost area and could emphasize Point Reyes National Seashore. Instead of continuing up the coast after Point Reyes Station one could take one of several routes from Highway One over to Petaluma and Highway 101. Trip Two could start in Petaluma and drive to Bodega Bay for the overnight and return through Guerneville to Santa Rosa and Highway 101. Trip Three could start in Santa Rosa and reach the coast via Jenner and the Russian River. Overnight would be in either Gualala or Elk. The return could be via Highway 128 to Cloverdale and Highway 101. Trip Four could reach the coast from Cloverdale via Highway 128 with an overnight in either Mendocino or Fort Bragg. The return trip could be back via Highway 128 or preferably north on Highway One through Westport to Leggett on Highway 101. As can readily be seen variants of these four trips are also possible.
"Life is not a race. Take it slower.
Hear the music before the song is over."
Annonymous